Words: Big Truth
Images: Stephen Canino 
Model: Meagan Elizabeth
A little about the Crew known as Choppahead. I'll be kind and just say if you live in the Northeast in this place called America, and ride on two wheels and don't know the name, then I guess you really don't ride now do ya? I'm just saying… Founded in 2000 by Big Truth and later joined by long time friend Jay, these hardcore/punk musicians somehow carved themselves out quite the niche in the moto world.  They do all and they do it gritty, loud, dangerous, and fast just like their website tells. As for this moment in time lets admire a very cool shovelhead their about to give away to expand their empire. And on a side note, I just wonder, even though I'm thinking I'm a bit older then these lads if I ever stumbled pass them leaving the "The Rat" in Kenmore Square under the glow of the Citgo sign. -RC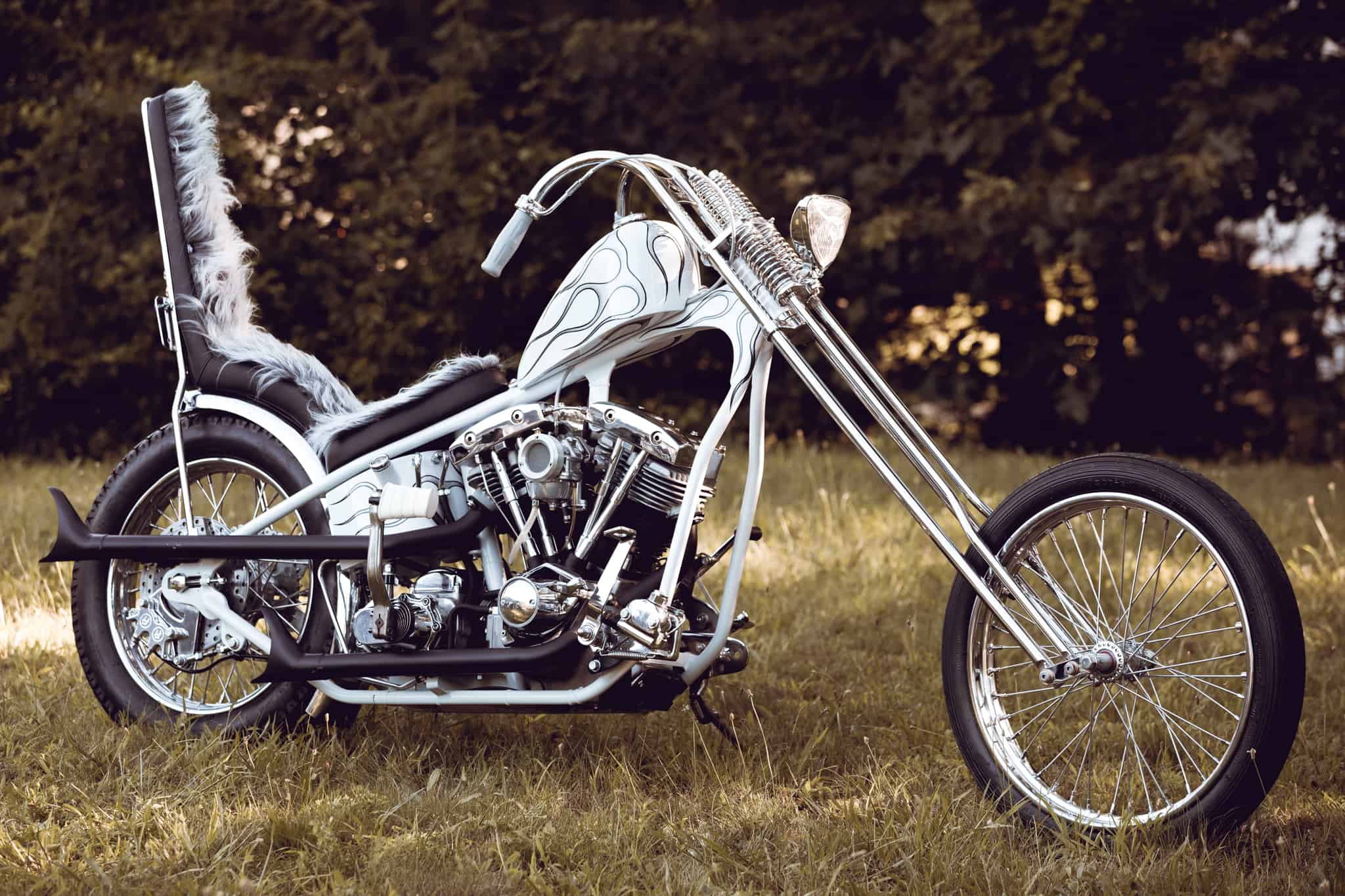 This is a 1972 stroker shovelhead chopper we built.  It's lean, loud, fast, and dangerous – as a chopper should be!!! We had a ratty donor shovel bike hanging around and wanted to build a cleaned, classic styled long chop out of it. 
We went through everything on this bike.  We only kept the frame and drivetrain from the donor bike.   Here's the basic rundown:  new 12″ over Bone Orchard springer, Choppahead spade rabbit ear bars, frame is an aftermarket wishbone rigid, belt drive, foot clutch/hand shift, Choppahead seat pan (covered in Yeti fur sourced by Himalayan monks by Wes at Counterbalance Cycles), Choppahead sissybar – with taillights by Gabe at After Hours. 21″ front spool wheel, rear wheel is a knucklehead rim laced to a modern Harley hub with custom Buchanan spokes – both sport Avon speedmaster shoes. Choppahead exhaust. Fender is a chrome Wassel.   Paint by George Quirk, Pinstriping by Chainay Kustoms, powdercoat by Goodhue's, and chrome by D&D.  Also want to give thanks to all the guys at Choppahead who had a hand in this with me in one way or another (Ryan, Chris, Cole, Ken, Junior) – as well as Stephen for the excellent shots, and Meagan for modeling… and Mark for running this!
Bike is currently being raffled, along with my 41 Ford Coupe.  Check it out on the Choppahead IG page (@choppahead), or my personal page (@bigtruth).
And be sure to check out our website choppahead.com!