I Know What I Did Last Summer!!
Funny how fast times moves, it seems like it was just yesterday when I could feel the summer breeze, and now as I finally sit here to share my thoughts of a summer gone by, I noticed we are at the year's end. I have never been good at writing about the things I have done.  My joy has always been capturing the moments of others through images and sometimes words.  This time however I will attempt to share what I did last summer, and what I did last summer was Culture Fest 2022!
To be honest I don't even know where to begin.  This event has been in my head for many years, with the help of many friends and a little bit of luck I was able to bring this vision to New York and hopefully provide yet another outlet for the New York / Tri-State area motorcycle culture. Now granted, the wheel was not re-invented. Considering the climate of world events and even the temperature here in the states, all I wanted to do was create a chill fest of music, art, and of course motorcycles.  Because in the end it was truly about the motorcycles and the one who ride and build them. Karma can be a wonderful thing.  I am very grateful for the major support from people I have known for years and perfect strangers who made this all possible. Without sounding like I'm at the Oscars I must mention the key sponsorship that helped make all things possible in no order, but each with a story of their own.
THE THANK YOU SECTION!
I met Anthony Durante from Old's Cool Choppers from my lifelong friend "Tony from Da Bronx", who we will get to later.  As a last-minute fill, for a sponsor who bailed it was great having Anthony on board.  He does not realize it, but he was a game saver in the end and I'm happy to now call him a friend.  Be sure to check out one of his killer builds featured in this issue!
Dell & Dean Law Firm:  Thanks to my little sister Cassandra, aka "Candy Kane".  Her firm jumped on board and helped us keep our t's crossed and our i's dotted.  Big supporters of the bike community we are forever grateful for all their support!
The Man from Oz
Words cannot describe the gratitude, appreciation, and friendship from a man named Paul Oz. Paul and myself have been friends for close to 15 years. Owner of Liberty Safes NYC, and a very eclectic motorcycle collector, Paul's passion for motorcycles and the arts rivals very few.  Without him this event would never have been possible. He is truly the man that made all this possible.
OUR HOST
Angels with open arms are what we will Culture Labs LIC! A not-for-profit haven for artist of all types located in Long Island City, New York. 
Gracefully they open their doors to our event, not knowing what to expect.  A special thank you Edjo Wheeler, Executive Director, Tess Howsam, Artistic Director, Chuck and all the volunteers who made the event very special indeed.  And a big shoutout to Lalena…  for just putting up with me.
108th Precinct
Thank you to the mighty 108th!  The provided great presence with a low profile.  A special thank you to Detective Torres.  His guidance made the planning beyond easy.  And not one complaint to the precinct! All I can say is LIC is in good hands!
Mayor's Office
They handheld a newbie like me through the entire permit process.  Saying thank you is just not enough.
Special Guest Judges
Thank you to Mark "The Animal" Mendoza of Twisted Sister, Tattoo Royalty Mike Calderone, and Culture Lab's Edjo Wheeler for doing a job I would never want! 
The Artist
So where do I begin!
The Trophies, welded by hand and made by the one and only TONY FROM DA BRONX, apart from Best In Show, which was done by my good friend Brandon Cooper.  They were the talk of the show! 
The Helmets came complements of Biltwell and Chopcult!  We were graced with 4 Gringo helmets. Each helmet was custom painted by Chris Galley/Devil Chicken Design- Best Chopper, Chris Brown/Brain Bucket Paint Shop- Best Modified, Anthony Di Liberto/ Pinstriping By AD – Best FXR, and Mike Calderone- Best In Show.  All amazing and all so different.  We could not have asked for anything better! 
As for artist in attendance we were graced with the likes of Debbie Fitch, Dean Chooch Landry, Otter LaRouche, Zoltan Suhay, Reiko Yanagi, and there was even a John Copeland sighting!
The Gift Givers!
These people reached down and donated asking for nothing in return to help us raise some funding for the gallery. Thank you to Chris Gallery/ Devil Chicken, Rob/ MotoStuka, Speakeasy Whiskey, Mike McCabe, Cindy Pan, Mike's ProLids, and a few gifts from Rubber Culture/Mark V Classics.
I ask that you enjoy this page, the memories of a good day of gathering and the hopes that we can do this again next year!  I am leaving the Invited Builder's profiles up.  It was truly a blessing to have in our first year a lineup that rivals none!  All these builders are more than just the best in their game, I consider them all friends and was truly blessed that they took the time to help me make this all possible.  I am forever grateful.
AND NOT FORGOTTEN…
THANK YOU, LISA, AND EVERYONE AT CHOPCULT! YOU ARE TRULY THE UNSONG HEROES OF THE MOTORCYCLE WORLD.  WHERE WOULD WE BE WITHOUT YOU!!
THE INVITED
Give a tap for a little 411
kulture Fest 2022 Through The Eyes of Reiko
Reiko Yoo Yanagi is a documentary photographer, and a regular visitor of Culture Labs LIC.  We were lucky enough to have her pay visit to our event, Culture Fest 2022 at this fine oasis.  Her work is amazing and speaks without words, so whatever I may say here will do no justice to the love and passion she possesses behind the lens.  
I watched as she spent the entire day capturing the essence of the days event.  I have never seen someone shoot with such passion.
All through the day I had dozens of people come up and ask, who is the lady with the camera.  My first reaction, not knowing who Reiko was and being so busy, my constant response was, who are you talking about? 
The replies to me were many…. The lady under the bike, the young lady who keeps taking pictures of me, that person over there bouncing around like a rabbit which such a big smile.  I could go one and on, but the results of her passion speak for themself, and it was truly a pleasure to have here in attendance.
I will share a few images of her work here, but I implore you to click the link to her site where you will see over a thousand images!  Yes, I said a thousand.
If you happen to see yourself, you can download the image.  A gift of pure kindness from Reiko herself.  What I ask is if you do remember we are all artist and it is not easy to carry our craft here in NYC. 
So, if you could find it in your hearts, a donation to her would be only good karma!  And hey, it the New York thing to do..
Paypal:[email protected]
Venmo: reiko-yanagi
The link to these amazing images can be found at: reikoatculturefest2022
Take a peek at a few images of a summer's day gone by and enjoy…
-RC
Zoltan Suhay Visits kulture fest 2022
As a newly self appointed moto photographer, with a little over a year's experience riding, I'm seeing all the NYC motorcycle events for the first time. My impressions are fresh and with little influence over what to expect aside from a brief description from baised riders who wish me to attend these events for fun, or my expertise in event coverage. What I found riding in early, to meet with local photographer "Otter La Rouche", was a large empty lot and stage that would certainly not stay that way for long. Very quickly it was bustling with the sounds of trailers backing up and the grunts of experienced motorcycle building legends kick starting even older bikes than I have any right to know their true history or glory.
 What I may lack in experiencing the glory days of these older bikes restored to new purpose takes nothing away from their build quality and precision in execution. Having rebuilt my 2005 triumph bonneville after an accident only a few months prior, I had a deeper appreciation of the amount of work that goes into building some of the pure works of art that rode in, trailered in, were put together onsite, and died on the way but were pushed in by loving fans.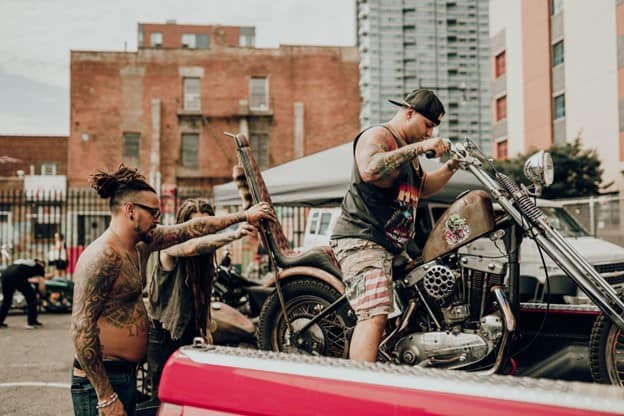 The day was hot and the sun unyielding but that didn't stop a large crowd of NYC riders from parking up the blocks outside the event and coming in to ogle over the awe inspiring custom choppers, cafe's, and loaded baggers. The event had bands onstage, plenty of local artists showcasing their photos, paintings, etc., and refreshments to satisfy the needs of so many riders coming in off hot bikes after driving through slow moving NYC roads. All in all, it's an event that I look forward to seeing again and what changes we will see to the format over the years..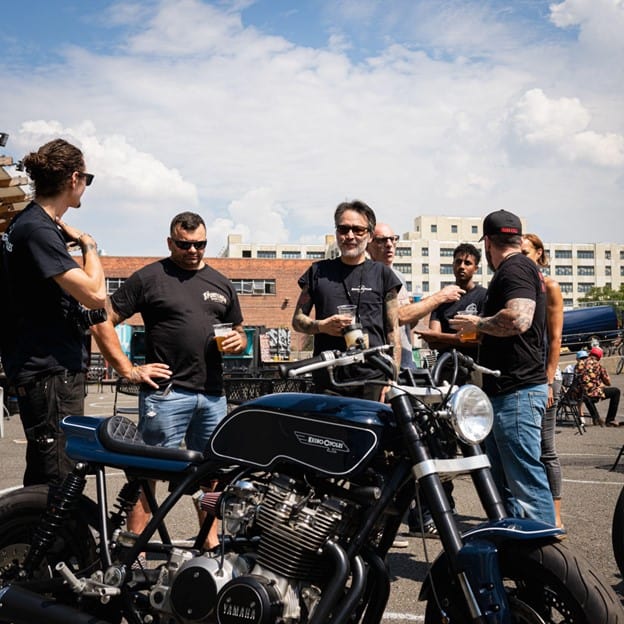 A Tale of two Photo essays
Beauty is the eye of the beholder.  Art is subjected.  A mantra that I live my life by.  It is always a joy to share the vision from another point of view which is not yours.  Here are two points of view from two different artist.  Same day, same experience, maybe… Enjoy…
We are very lucky to have had Chris capture this special day through his point of view.  And to think he was actually surprised I would even ask him.  Well done indeed.
Known for his amazing flat track images, having Otter snag a few images was a treat in itself.
Final Thoughts Kulture Fest 2022
Sometimes you actually get to check a thing or two off your bucket list.  The satisfaction of such feats can be indescribable.  I will be the first to admit that with all first attempts, Culture Fest 2022 was far from perfect, but my what a good day it was indeed! 
The learning curve is one I will never forget.  Dealing with personalities I never expected has given me a new respect for the human condition.  The kindness and support from friends still leave me speechless.  Random acts of kindness and support from strangers will never be forgotten. To this I thank you all…
This little note is very personal to me, so it will be personal.  As I looked at all the top builders that were invited, I still say to myself, how lucky, how lucky, how lucky!  I don't care what anyone has to say, you will never see such a lineup like the one we had ever again.  The best part is that I am blessed to say I have a personal relationship which each one of them.
Alex Lerner, New York will miss you and I will miss your vodka!  I watched from a distance your son grow into a fine young man.  You are a great bike builder, but your family is by far your greatest build.  And after all these years it was finally nice to meet your better half!  Paul Cox, I remember the first bike I ever shot that you built.  I started out as a fan (kinda still am) but it's nice to be able to call you a friend.  You are truly gifted and amazing.  Keino, no need to ever say you last name, because if they don't know the first, then they don't know what New York legacy is all about.  You are one of the kindest souls I have met in this industry, and I will never forget the words you shared with me as you left when the day was done.  Matt and SMike aka the Yard Ratz! What a one two punch.  Every moment with you guys is an adventure and we haven't ended up in jail yet, so as they sat FTW.  Thank you for just being who you are, by the way you truly had the People's Choice…. Just saying.  Tim Harney, there is just never enough time, but I watch and respect your vision more than you can imagine.  Yes, I think you're crazy but that's what makes you so cool.  Jerry Merola, what friends we have become over the years.  You are what all garage builders should inspire to be, greatness on your own term, you are truly a lifelong friend. Jack Deagazio, one day they will call you the Chopper King! Thank you for just being one of the good guys, your work speaks for itself.  Evan Favaro, I often ask myself why I am so proud of you and what you have accomplished.  The reason is that you never turned your back on me and are the same person I met in that dirty garage in New Jersey many years ago.  We don't see each other so much but you are one of my truest friends.  Don't ever change.  Chaos George, it's very simple.  We are family, for good or for bad our friendship has stood the test of time and Long Island.  Brandon Copper, we met on a very hot day in Daytona to shoot your bike and have been friends ever since.  It has been a true pleasure and my how the time has gone by, our families now know each other which makes our time together much easier, you are one of my closest friends.  Steve Iacona, truly the pride of Brooklyn.  I know you hate when I say this but not only are you gifted but you are one of the good guys!  Your attention to detail is amazing, you keep out of the drama, and may be one of the best builders I have ever met.  And now you as well are a lifelong friend. And who can forget John Copeland, I met you through Keino outside the Brooklyn Bowl many years ago and put your bike on the cover of American Iron.  At the time I did not know what an amazing artist you were, and since then you always make yourself available when I need to pick your brain.  You are by far my most mysterious friend of the lot, but a friend indeed.  Your work on canvas and on motorcycles will always amaze me.
I wanted to take the time to single out these builders.  It was not me that the people came out to see at Culture Fest, it was this cast of characters.  They all stepped up asking nothing in return but gave their time, which I know is their most valuable resource.  In the end the most enjoyable moment throughout the day was just watching all the builders interact with each other.  No pressure, just a day among their peers and fellow bike lovers.  I could not have asked for anything more.  It is because of them that I hope I am now able to make this event a yearly thing and allow it to grow each year.
I thank the builders, the bike lovers, all the artist, and those who donated!  We hope that Culture Lab LIC will invite us back next year. 
The theme for Culture Fest 2023
The Blue-Collar Invite!
Stay tuned and stay safe!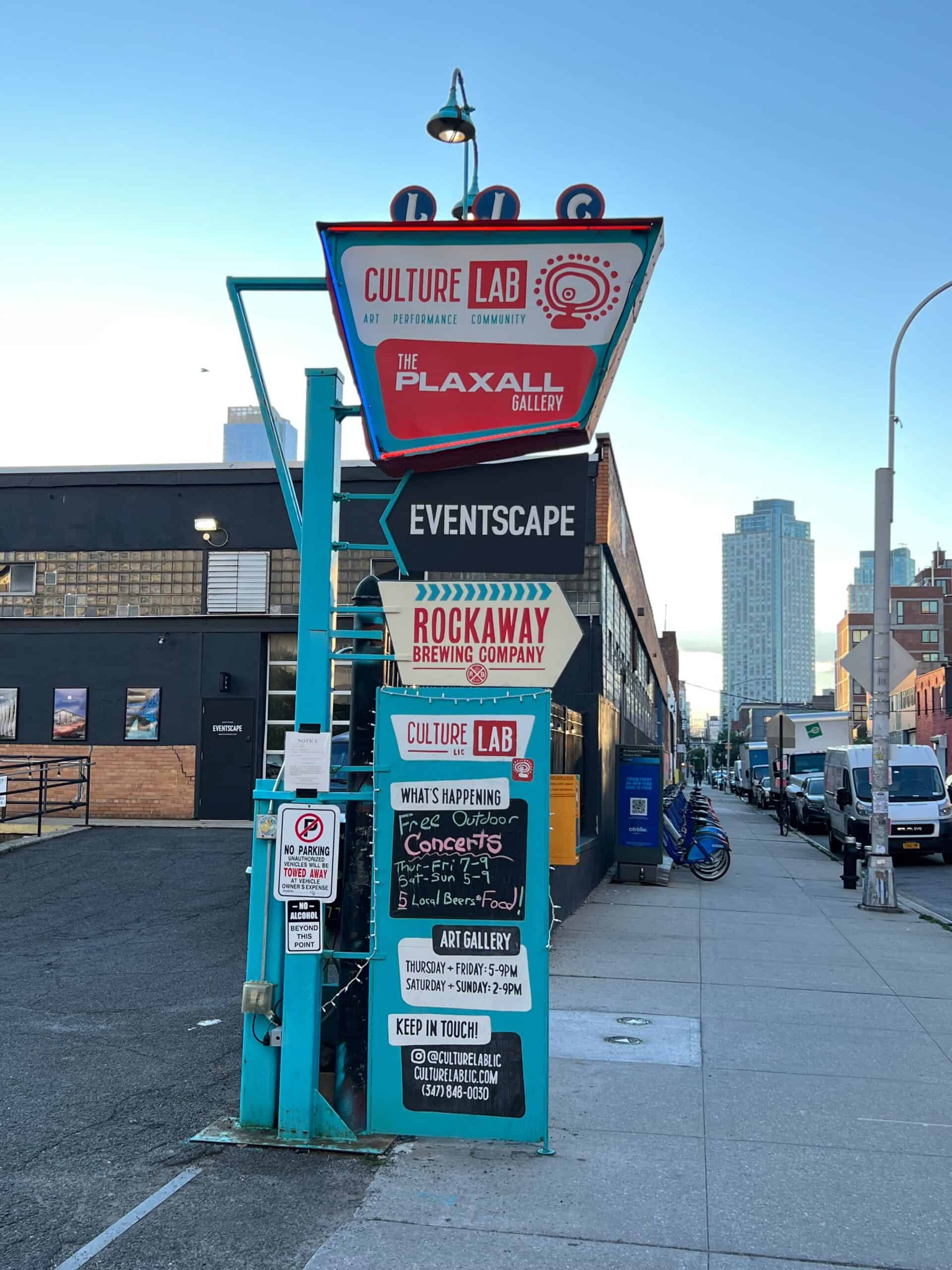 the winners circle.. more on them in the next issue