Story: Frank Caruti
Images: Mark V
The joy of the unpredictable... that thing called life. This is what makes this site special. A feature that's more just about the bike. Enjoy at the expense of Frank his series of unfortunate events that in the end leaves him with the best of endings. Enjoy his tale and very cool Shovel -RC
My 82 wide glide was built in 1 month.  Try beating that! That's down to the frame, paint, powder coat, and motor.  I intended to go to the first kickstart classic in 2011.  Life got in the way. In 2017 I was going again. Life happened again and somehow it was now a month away. Thanks to good friends, the stars being aligned and a smile from the chopper gods, my plan came together.
The Lowdown and making shit happen..
I stripped the bike in a day and ran all my powder coating parts to Chris at Coast 2 Coast Powdercoating. Chris had my frame done in 2 days so I could get to building her. He had my tins and little parts done in a week. Once my tins were ready, Gunner from Gunner custom paint sprayed the flames and graphics in a week.   
While powder was going on I took my 35-year-old motor to my buddy Frank in Delaware where he's known for making some sick horsepower bikes. I got there Friday night, split the case, bored and built the motor and drove home Sunday….  Thanks Frankie!
I knew I was riding from Jersey to NC, so I built a rider.  I had 5 gal tanks and somewhat of a suspension even though 10-inch shocks aren't much. I borrowed a set of saddlebags and thought I was ready.
The bags didn't work with my cool pipes, so I had to throw the old ones on for now. No big deal, I needed bags.  Two days to go but I only had about 50 shakedown miles.  What could go wrong?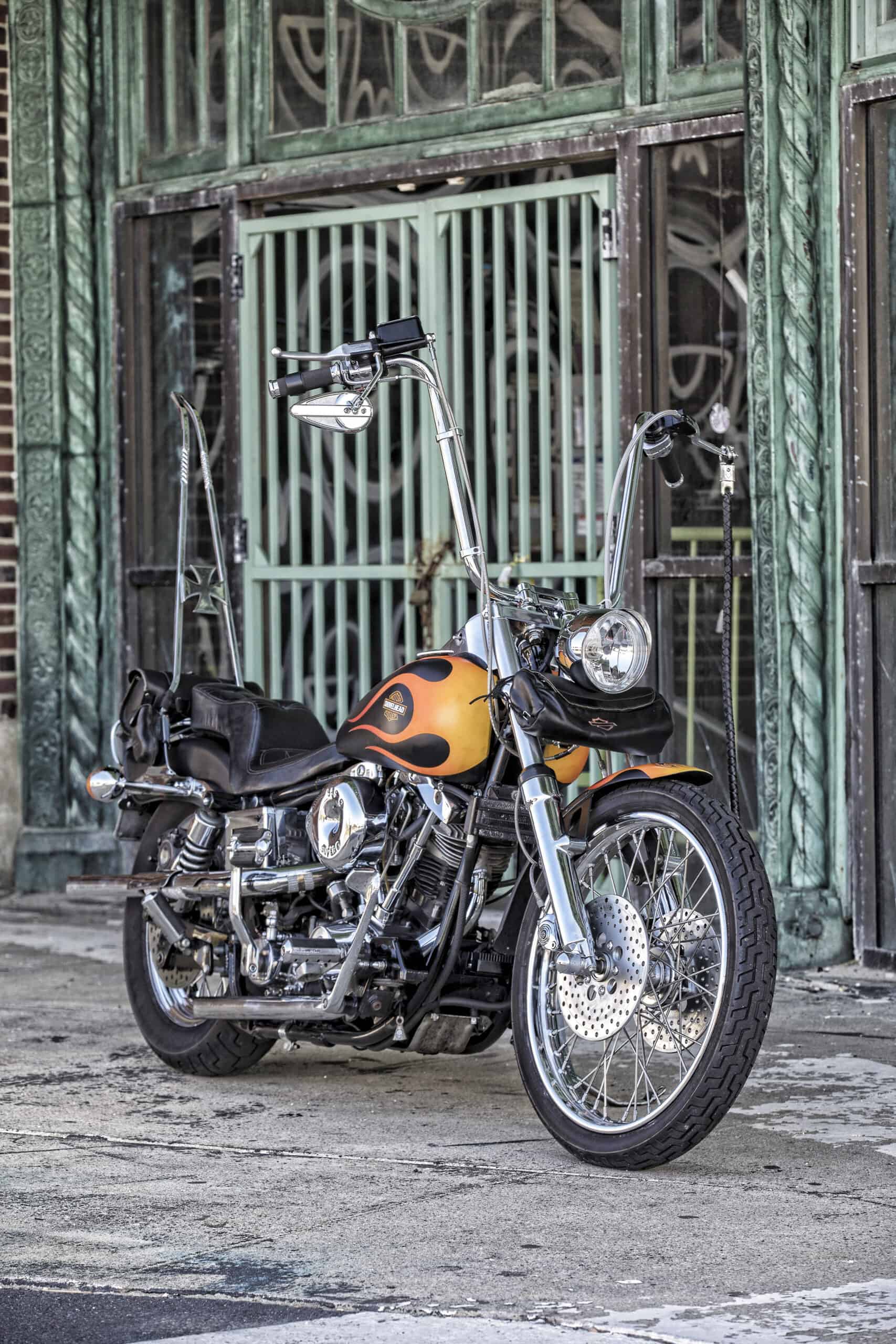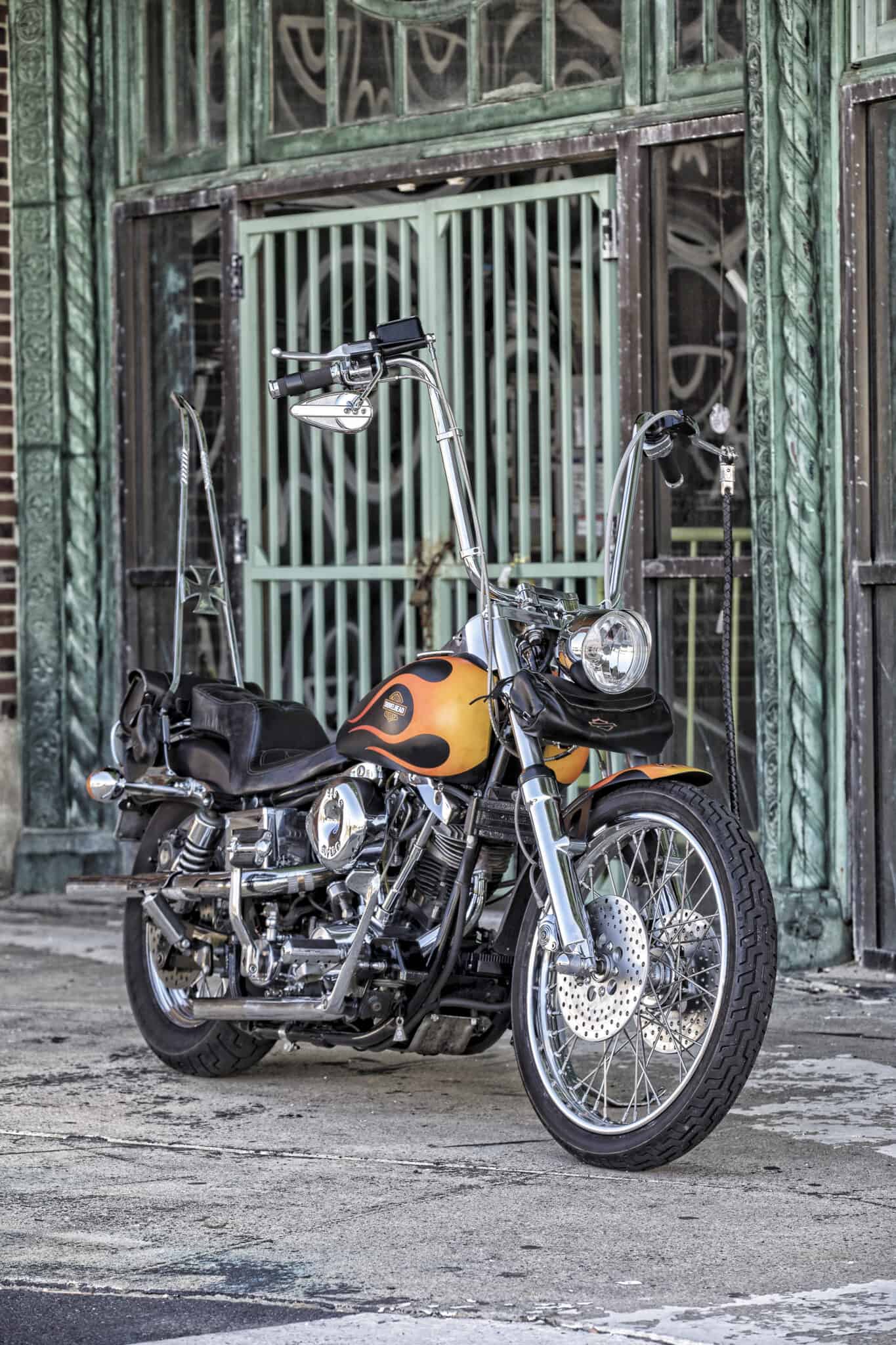 During this time, I met Beth who I invited on the trip.  She had a sporty and said she was into motorcycles.  Nine days on a big bore 4 speed shovel would definitely test this out. The day before we leave, she shows up with a bag of cloths and a bag of shoes.  Yes, it was a new relationship, so she got the sissy bar bag for cloths, one saddle bag for tools and raingear and the other for shoes. I brought underwear and socks.
With an extra 100 pounds of cloths on the bike I took a ride on the parkway to test my tie down skills.  All good.
I open the garage to a rear flat tire.  Too much going on for a plug, so I headed to Bob at Blockheads in Tom's River, NJ and had a new tire on that day. 
Next morning was day 1 on interstate 95 to Front Royal Va. Sucky day, but from here on its skyline drive and the Blue Ridge Pkwy.
I installed plastic "O" rings on my rockers.  The package said leakproof, I missed the small print that read for only the first 100 miles!  After a day of vibrating our teeth out on 95 we were wrenching in the motel parking lot.
Day 2, Skyline Drive.  Deer, bears and more oil leaking from my rockers. Another night in the parking lot. Beth was laughing handing me tools.  I told her "After this trip, we will never speak or be together for life".  In the meantime, no luck with these rocker bolts.  Every Harley anything along the way didn't seem to know what a shovel was.
Day 3. Made it to Maggie valley. Someone had to have old parts.  Thursday night was the Kickstart classic dinner.  I told Dale Walksler of my oil leak woes.  He handed me 4 "O" rings and said good luck.  That night when I went to install them I found out all my fixing stripped out the rocker bolt. Teflon. RTV, and prayers offered up to the chopper gods should fix it.
Day 4, on our way to Wheels Through Time, I left an oil trail from the hotel to our destination. She was unrideable. I knew I should have done that virgin sacrifice!  Wheels Through Time was packed!  All the riders, all the media and me pulling in with my leg against my rocker.  My bike won't make the ride home, forget the kickstart.  I find Dale upstairs doing an interview, two hours to kickstands up.  When Dale's free I tell him my story.  He says he'll try.  I know him looking for a bolt is the last thing he needs today.  One hour to go.  I now realize I'm not making the ride, but how do I get home.  I'm not going to bother Dale again.  Forty-five minutes to go and Dale sees me and says, "It's just too crazy today but if you go to the 3rd shed in the back there should be a shovel, take what you need".  Fifteen minutes to go and no oil leak.
 After the kickstart we enjoyed this beautiful country in a 3-day ride back home.  Beth enjoyed every minute of it. Day 8 of 9, we were in the middle of Virginia and my bike lost its drive.  I coasted to the side of the road and saw my chain in the middle of the road.  All good until I remembered my master link was sitting on my bench back home forgotten as I repacked all the bags.  Those dam shoes!  Three Harley dealers and no one has a chain.  One counter guy told me Harley's have belts not chains and tried to sell me a primary chain.  Three hours waiting for a tow in the middle of nowhere. Now it starts raining.  Beth and I are sitting under a tree laughing.  Yeah, she's a keeper.  I find a drive chain at a Honda dealer. We get there an hour before they closed, they lent me a jack and tools. $26 for the chain.  FTF.  I'm ready to blast home in the pouring down rain but Beth finds a hotel 5 minutes away with a hot tub and Mexican restaurant.  After a night of margaritas, we enjoy our ride to jersey.  With an hour left to home my headlight vibrated to death. 
Big bore, big stroke, big cam. We we're numb to it by now. A hour ghost ride and we were home.  Five years after our kickstart ride I'm still with my soulmate.  We were planning a Wheels Through Time ride this year.  With the passing of Dale and American Iron closing I don't think there will be a kickstart classic, but Beth and I will once again test the shovel…
This article is dedicated in part to the memory of Dale Walksler.
Dale Walksler, the founder of the Dale's Wheels Through Time Motorcycle Museum, former Harley Davidson Motorcycle Dealer, and member of the American Motorcycle Association and Sturgis Motorcycle Hall of Fame, devoted his life to the advancement of antique motorcycles and their history. -RC