Every aspect of building a motorcycle has gone global─ Junichi Shimodaira straddles two worlds at his Paradise Road kustom car and motorcycle shop in Seto, Aichi, Japan (Nagoya region). One foot sits in his area's impressive kustom scene, the other in SoCal Cholo low-rider building culture. The mid-sized port city of Nagoya is Japan's auto manufacturing hub; the vibe is working-class and down to earth compared to glitzy Tokyo and historic Kyoto── People in the Nagoya region are not afraid to get their hands dirty. During the early days of post-war globalization, Nagoya became the sister city to both Los Angeles, California and Mexico City, Mexico. Over the last thirty years, SoCal inspired Cholo style kustom car and motorcycle building has become the life-blood of the city's moto-culture.
Many of Japan's talented builders live and wrench in the Nagoya region and most would agree that Junichi Shimodaira and his "Low and Slow" Paradise Road shop, that he opened in 1987 has been one of the key inspirational players. The shop focuses on rebuilding and kustomizing less emphasized car and motorcycle models. Junichi founded the Pharaohs Car Club in Nagoya, borrowing the name from the cult film classic American Graffiti. It is now the oldest kustom car club in Japan.
During the late 1980s with "nada" English language ability, Junichi followed his gut and visited LA and iconic kustom builder Ed "Big Daddy" Roth. Roth returned the favor in 2001 with a visit to Junichi's Nagoya shop and blew the doors off the shop's mild mannered but growing reputation.
Junichi's kustomizing cred was firmly established after his 2002-3 RODriguez kustom rebuild of a 1930 Ford Model A Tudor sedan won best of show at Shige Suganuma's MOONEYES 2003 Hot Rod and Custom Show. Five years later, Junichi dropped a 1959 Chevy 348 ci big block, triple carb V8 onto the rebuilt rails of a 1927 Ford Model T Roadster, added some over the top body stylizations and his Galaxian took best of show at the 2008 MOONEYES event. These cars pushed other builders in Japan and the kustom movement continued to take shape.
"In 1987 I quit my truck driving job and went to LA," Junichi said. "When I came back I decided to open a shop. My first shop was small, I sold American antique car toys and smuggled car and motorcycle parts. The shop became a place for car and motorcycle guys to hang out. More people in Japan were becoming interested in Low Riders and motorcycles. 1987 was the first Mooneyes Tokyo Street Car Nationals show. It was good timing. Shige Suganuma at MOONEYES brought together a lot of car and bike guys for the first time in Japan."
The combo of Junichi's growing building rep and his SoCal sensibility started to influence people. His open door policy invited the curious into his shop and introduced them to what was for young Japanese a very mysterious, exotic and cool cross-cultural experience. At that time before the Internet, Japan was still an isolated and conservative culture. Young Japanese wondered about the outside world but had limited access. Within a few years, Paradise Road with its 'crazy' cars and motorcycles became a go-to destination.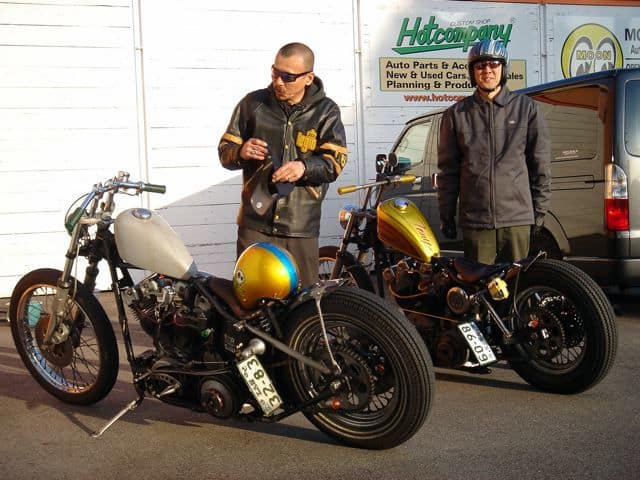 "For many years I was deeply involved in the Nagoya Low Rider scene," Junichi said. "Then 2004 I was looking around YAHOO and found a pre-unit Triumph 500 Speed Twin. The bike was very bad shape. Everything broken, nothing worked but it was a full original bike. I started a new project to create a new bike── Psicodelico. I stood the bike up under the lights in my workshop. For a long time I had saved a red plastic drinking cup that had cool shape. I was saving this cup to make a cool tail light. I held the cup over the rear fender… It was like an inspiration. To rebuild the bike so I can use the red plastic cup. Make a cool, perfect kustom tail light from this cup.
"I took the bike apart and broke it down," Junichi said. "I had different sections of my workshop for every part of the bike. I had to keep everything organized. It was like a cool puzzle── engine here, transmission there, frame against the wall, no seat, front forks next to frame. Electric was 100% throw away.
"I opened up the engine cases," Junichi continued. "Wow! What a mess! Everything was bad. The flywheel, the rods, the pistons, intakes… I took apart the transmission and it was dried out solid. I knew this was going to be a big project but a good project. Bring back this great motorcycle. It took me three months to clean up this bike and rebuild the major components.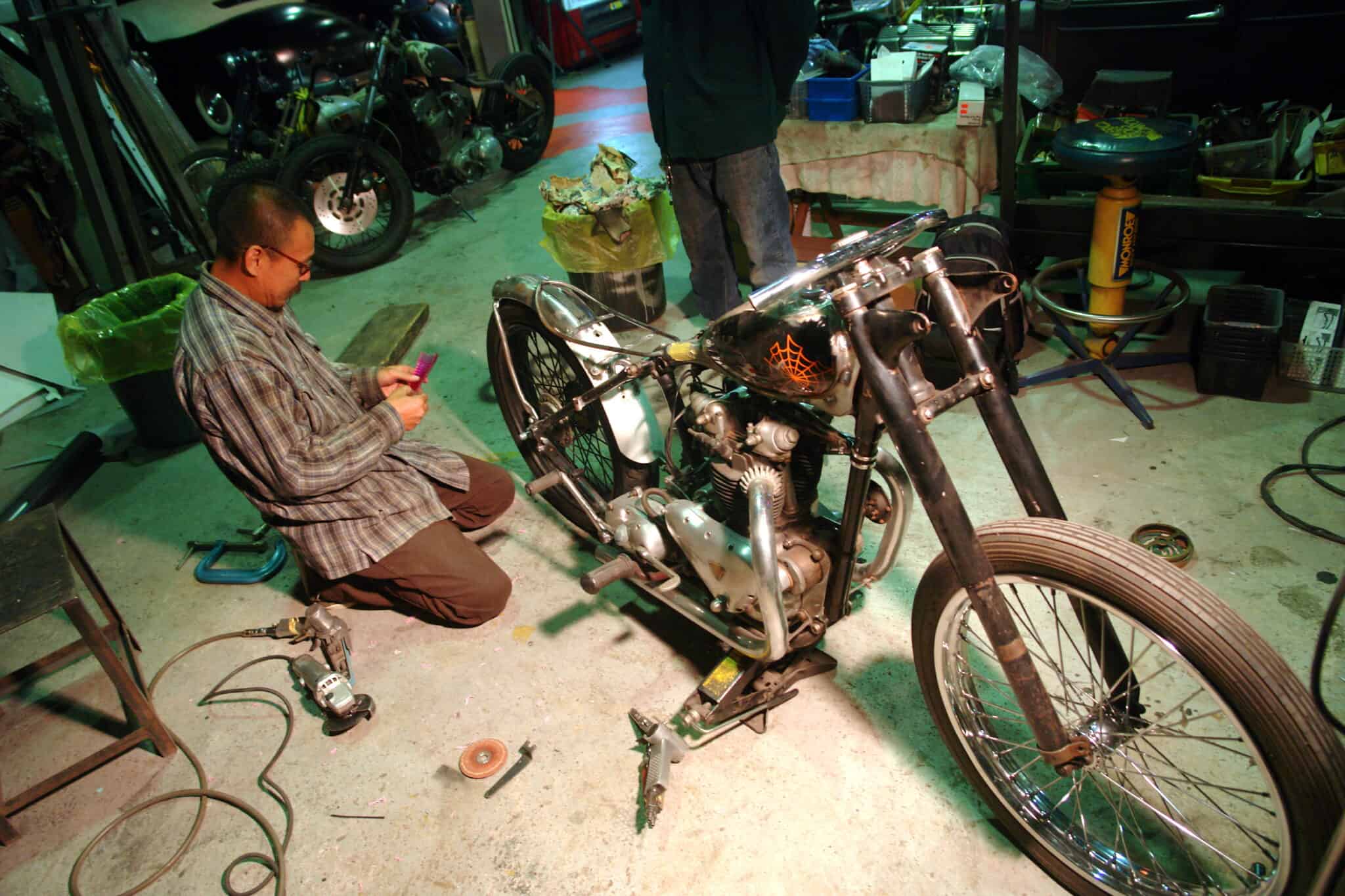 "Paint was important," Junichi said. "So I asked my friend at Freddy's Custom Paint in Nagoya to do the paint. It is real Cholo style. Very flashy colors combined together and many different layers. Some brush, some spray. Thick lines and very thin detail lines. This is Cholo. I really like this style. It's a very deep way of doing paint design. Motorcycle does not have much space to make a statement with paint. I talked with Freddy about making tank paint statement. Has to be perfect but tank is small. I think this tank is good statement.
"Rear fender was important," Junichi said. "I had to fit my red plastic drinking cup tail light to fender. I had to cut shape in the fender and cut cup so everything will fit. I made a jig and carefully cut the angle of the red plastic drinking cup. Had to be careful. Had to be perfect.
"I wanted to balance bold tank color with fork chrome," Junichi said. "Balance shiny to paint color. If no balance then bike look won't work. I brought the forks to guys at local plating shop. We did many layers of chrome to give forks good look.
"It has been many years but I still add to this rebuild," Junichi concluded. "That's OK. Kustom build projects never finished. I bring the bike to shows and everyone likes to look at the bike. Everybody likes the paint colors. These are bright colors and designs from a far-away place but this doesn't matter now. Our world is connected. Psicodelico makes a connection."