Story: Michael McCabe
Images: Kazuo Matsumoto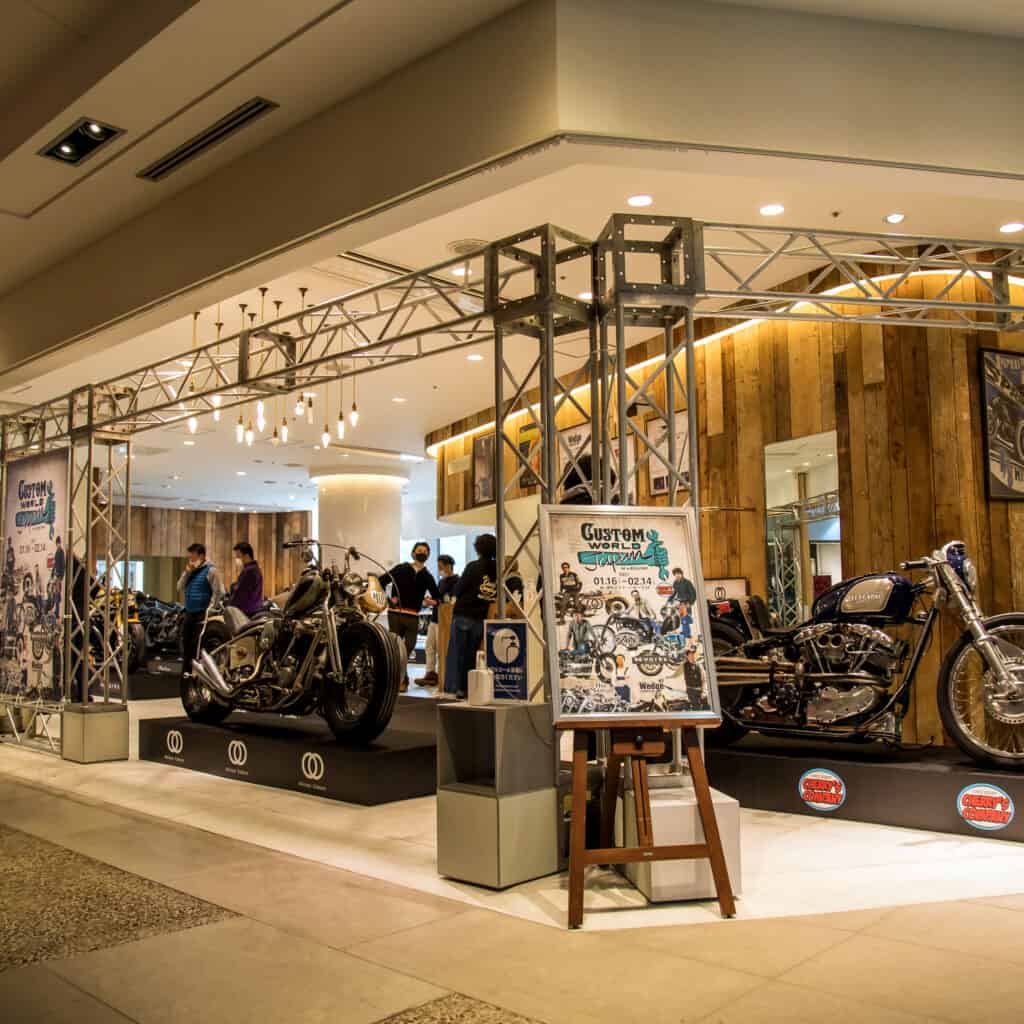 The custom motorcycle movement in Japan continues to turn heads on the global stage. People who follow bike building recognize the refined abilities of top Japanese builders as they deep-dive into their builds, and work skillfully across the different brand platforms.
It had never been done before in Japan, but undeterred by the challenge of Covid, top builder Kengo Kimura (Heiwa Motorcycles in Hiroshima) wanted to create an exhibit of custom bikes in the setting of a shopping mall─ He thought this would be an opportunity outside typical bike venue to open a door of visibility between the general public and the rarified world of Japan's top builders.
Kengo reached out to a local high-end retail shopping mall where top brands like Prada and Hermes were represented, about creating a small custom motorcycle exhibit and yes… unbelievably… he got the thumbs up! Next step, he contacted his building friends; Yuichi Yoshizawa and Yoshikazu Ueda of Custom Works Zon; Shiron Nakajima of 46 Works; Shinya Kimura of Chabott Engineering; Kaichiroh Kurosu of Cherry's Company; Hideya Togashi of Hide Motorcycles and Takashi Nihira of Wedge Motorcycles and again, bingo! They were all on board for the show. This unprecedented exhibit needed to be documented so Kengo contacted his friend, legendary photographer, Kazuo Matsumoto. Everyone, including the mall management agreed on establishing Covid protocol and the dates: 1-16 to 2-14 were set.
"It was exhibited at a department store," Kengo said. "Simply to let people who don't know about custom culture and custom motorcycles to see the world-class bikes.  And it's free! People passing by were enjoying themselves; they had never seen anything like this exhibit. And many custom bike fans came from all over Japan."
Most people no matter where they live, are not familiar with the private world of high-end custom motorcycles. There are associations between motorcycles and renegade culture that might discourage a natural curiosity about what are actually beautiful machines. But… Japanese culture is different… Japanese people appreciate a wide ranging view about aesthetics and beauty: For example: how you are supposed to fold paper or wrap five eggs and how you prepare a sushi meal with a sharp knife, and with Kengo's help- how you appreciate a beautiful motorcycle as ART… This appreciation of craft and art is almost coded into Japanese culture. Ya, it was unusual to see a dozen custom motorcycles sitting on the floor of a Hiroshima shopping mall, but the beauty of the bikes attracted the curious shoppers like moths to light.
"Yes, people were passing through, walking around the motorcycles and were also enjoying themselves," Kengo said. "And many custom fans came from all over Japan. This shopping mall contains high-end brands such as Prada and Hermes, and I thought it would be integrated into such a department store.  It's the first attempt in Japan. I think the people had to realize these motorcycles were special. They had to know this when they looked at the bikes.  We are planning to hold this event once a year.  I hope everyone will get to know it little by little."
Photographer Kazuo Matsumoto walked among the motorcycles and builders in the mall and documented the event with a sense of purpose. He has been riding and photographing bikes for leading Japanese, Euro and American motorcycle magazines since his twenties.
"I got a motorcycle license when I was 20 years old," Kazuo said. "I started photographing for motorcycle magazines while attending college. I have an H-D Shovelhead FLH. I bought this ride 20 years ago. I also have a Honda Super Cub, and I owned a Suzuki RF400R, a Honda Steed, and a Honda XL250 in the past.
"In my childhood, I really loved airplanes ever since I watched the movie, "TOP GUN", Kazuo said. "So, I started taking photographs of my favorite fighter jets. After that, I moved to Fukuoka city, to study photography in college.
"The Motorcycle is one of the freest vehicles in the world," Kazuo said. "I love both American and Japanese motorcycles. Many Japanese people often watched American movies and music from childhood and that's why I think we are naturally attracted to American culture like Harley Davidson. Japan is a small Island country. So, many people have a longing to ride in the USA on a Harley Davidson.
"It's hard to say why Japanese custom motorcycle builders like working with a Harley," Kazuo said. "Almost all Japanese custom builders have a huge respect for American culture and they have the delicacy and unique creativity. Respect + creativity = Japanese custom culture."
Kengo followed his gut to create an unprecedented custom bike event in a shopping mall; shoppers smiled as they strolled past the beautiful, custom motorcycles and Kazuo documented the new cultural possibility with his camera.