Story & Images: Herman Verslag
If you take a look over your shoulder and look at the dust behind you from a year gone by it may sink in your head that life is truly short, and here for the living. I share these words as I have Van Hallen blasting in my ears thinking .. Wow ! Lucky me! I may say this every release, but for me this site is an example, a gift of life to be shared.  In less then one month I have connected with people from all over the world. People whom I would never, even by chance cross on my journey here on plant earth.  Before you I introduce my new best friend Herman from over the pond as they say.. Listen and enjoy the true definition of a thing called life. Yes I stole that line from Prince, and yes life can be good so find it!
RC 
Hi I'm Herman born 1991 (Hermanos.tattoos ) you can find me on Instagram . I have two passions Tattooing and motorcycle riding , oops ,  actually three , not to forget my beloved wife Eva of course😊
I'm based in the town Leopoldsburg, in the Flemisch region of the small west European country Belgium . At our borders you find Holland, Germany, France, Luxemburg and the North sea . Our country is divided by a virtual border (the Language border), at the south, they speak French (Wallonie).  At the north, we speak Dutch Flemisch (Flanders), and there is a small part where the people speak German, the East Cantons.
The Flemisch region is much more prosperous than the Wallon region, the Wallon region is much more rural. That means a lot more people live here on a square mile then in the Wallon . That also means that roads over here are constantly congested and there are a lot of traffic  traffic jams . Our region is also very flat .
 Wallonie is a different story, you have lots of curved roads lot less traffic and small mountains, a real  treat for the motorcycle rider . Especially the Ardennes which are adjacent with Luxemburg and the Eifel mountains and stretch out from the Ardennes to Germany .
The start of this  region is only  45' driving from my home, so needless to say even when we only have half  a day off we ride into the Ardennes .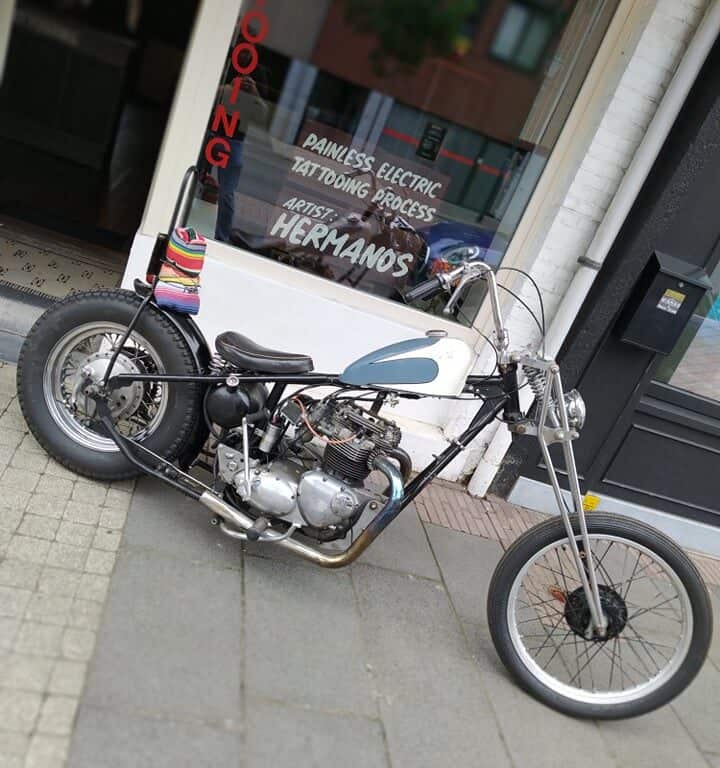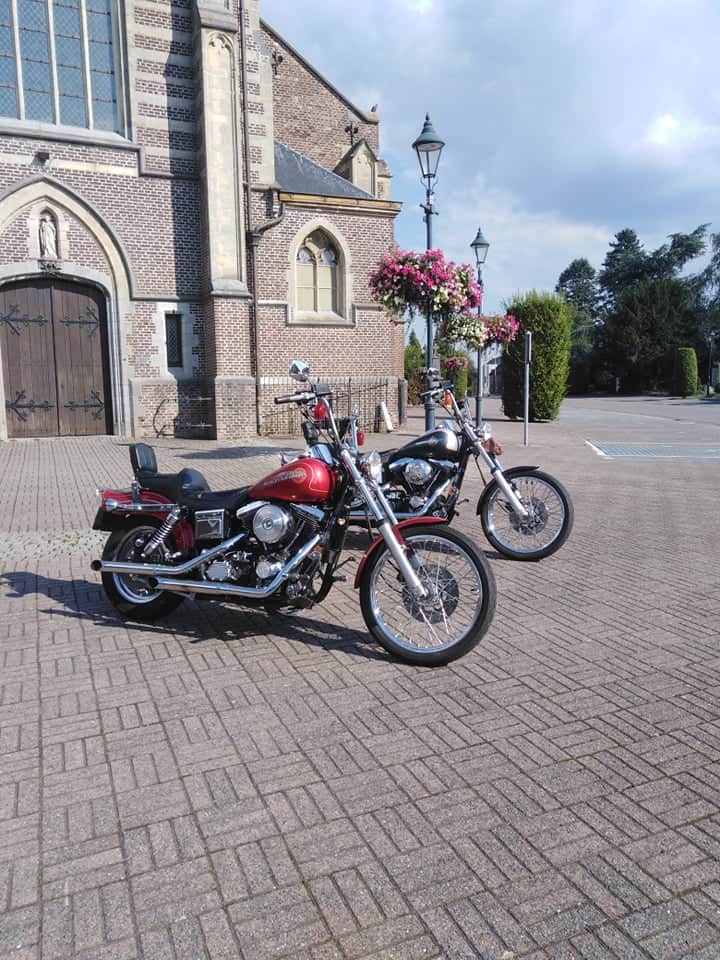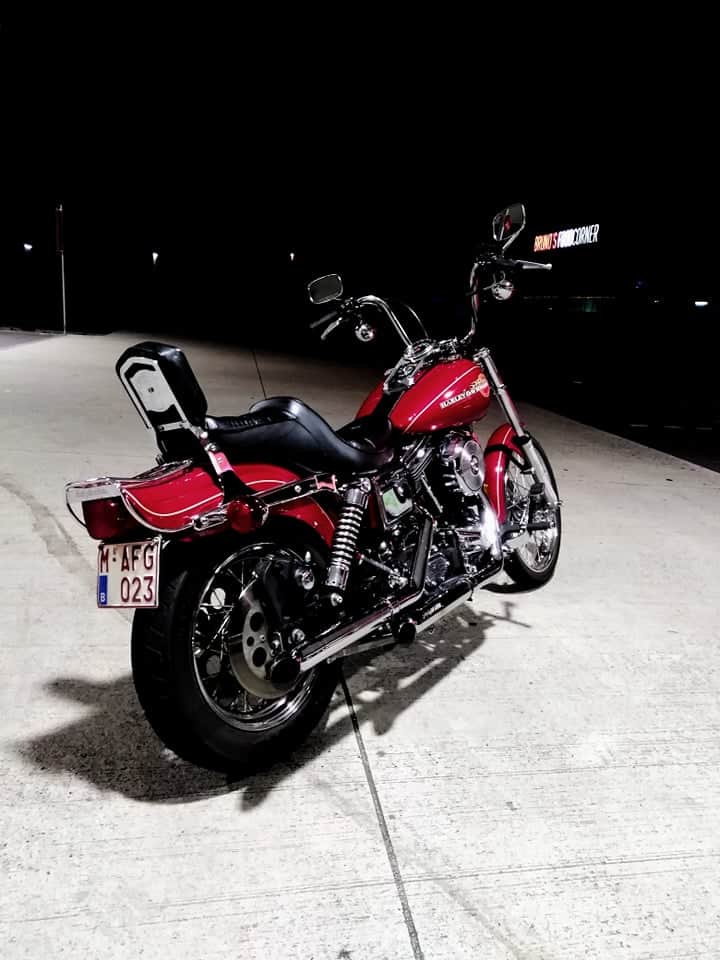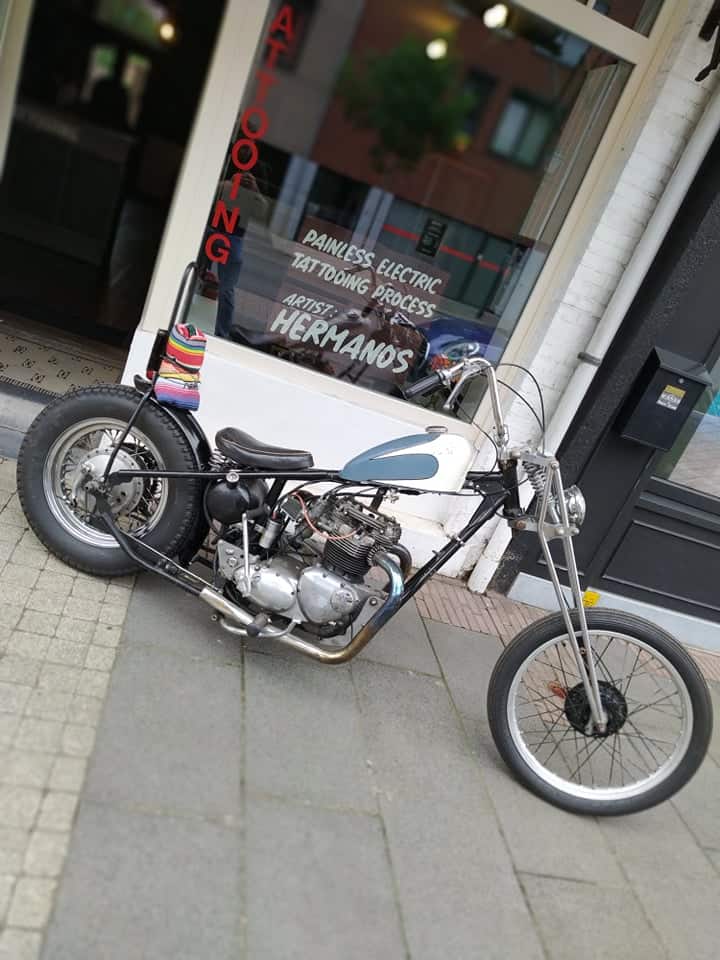 From childhood on I realized I want to ride a motorcycle, especially a big fat Chopper, the feeling never went away.  It started with customizing bicycles, small scooters until I reached the age that I was legally allowed to buy my first motorcycle.  A few years before I was old enough to drive I randomly got in contact with an older motorcycle enthusiast who fed my asperations. We're still friends up till now and ride together on a regular basis. We both love night rides with our wide glides and call ourselves the NIGHTRIDERS, an exclusive club of 2 😊
My first motorcycle was a Harley Davidson sportster 883 cc from 2003 nicely personalized.
After a while I bought a 1200cc big bore kit to give it a bit more juice . 😊 I've  been driving this motorcycle  for several years when I decided to sell it to be able to buy a HD Wide Glide.
Reason, the Sportster was a single seater and the third passion came into my life; EVA .  I wanted to be able to do rides together with the love of my life.  And I consider a wide glide as a perfect travelling chopper.  It's by the way the first Harley ever that was build with forward controls factory of , in 1980 with a shovel engine at that time.  Mine is an EVOLUTION  from 1994.  I was so lucky to find one with only 6400 km on the odometer in perfect mint condition .
 Because of weather conditions  and the smaller more curvy roads over here compared with the USA it was a sensible choice to buy the wide glide to put a lot of miles on the odometer .
But I kept craving for a more extreme chopper. So a few years ago I was able to buy the Triumph Bonneville T140 mounted in an Uncle Bunt rigid frame with a girder fork.  Could I be so lucky!  I consider 45° V-Twin engines from Harley Davidson  and parralel twin engines from English brands  the most beautiful in the world .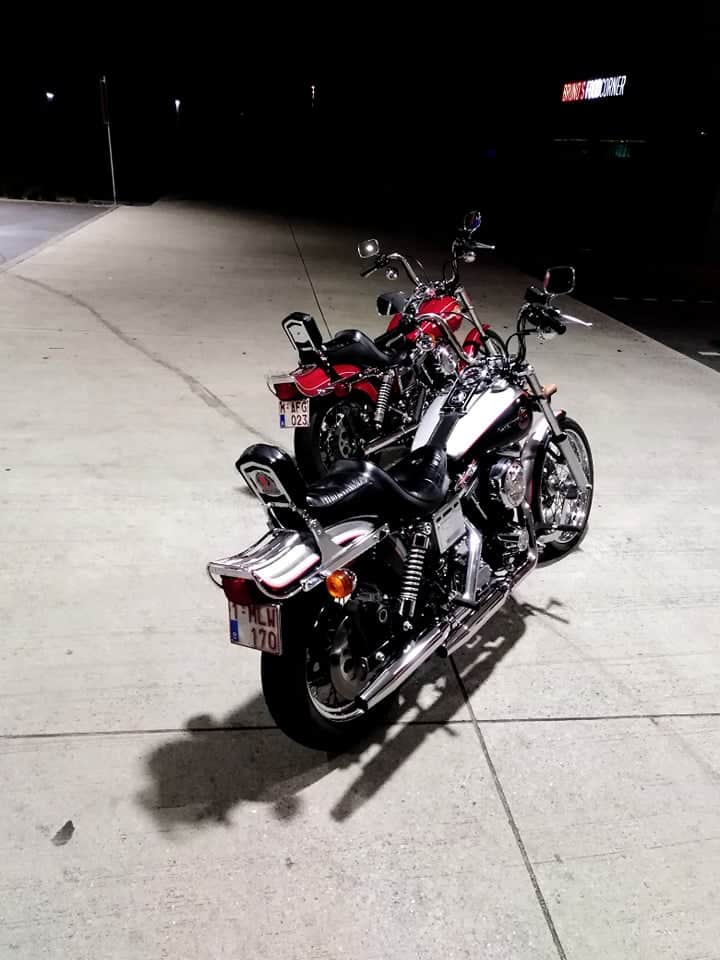 The Triumph Story
Eventually me and my father took up the plan to build a parallel twin chopper together. But unfortunately he became unexpectedly ill and he died much sooner than we could ever imagine.
I was  completely down at that time so along with my father  I buried the plans of building and customizing my own chopper.
A friend of mine was the previous owner of the Triumph, actually I went along with him at the time to buy it for him years ago. I impulsively said to him if you ever sell it I'll buy it. It stood in his garage for years with engine damage and he never got the time to start repairing  it due to other restauration projects. Remembering my words he asked me if I was still interested in the bike because he wouldn't sell it to anybody else. 
Of course I said YES, and  it changed from owner in a heartbeat  for a very nice friendly price.
Together with another friend of mine who is a gifted mechanic we restored the engine part ,so it could go back on the road  again and I  personalized it a bit  to my own taste.
Why do I ride a motorcycle?  passion, passion, passion,  does one need to explain passion.?
You can clear your head completely riding a motorcycle , it gives one the opportunity to leave all the worries an troubles behind  and gives me inspiration for my tattoo work . Especially  the laid back rides with the Triumph.
For the moment I ride the Triumph as it is, but we have plans for the future. With my late father in mind, my brother, my brother in law and myself we took up the plan to rebuild it together as a tribute to him, doing all the stuff ourselves .
From my  early years on I was passioned by art, painting, drawing, sculpturing, and creating.
At the age of 7 already I went to the art- academy, as it happens together with my friend the previous owner of the Triumph .
Creativity and drawing runs in the family , mother , sisters , brother and uncle are all gifted artists .
I was always searching for new mediums to express my art and  always came back to tattooing.
I consider it a huge privilege and honor if people want to wear my art on their body this way showing it to the world. 
Considering the limited options to learn the craft of tattooing over here I decided to do research and practice on my own. So I'm completely self-taught. The consequence was that my learning trajectory was perhaps a bit longer but I don't regret it for a minute.
As tattoo-artist I lean towards the traditional style of drawing and electric tattooing.
All my drawings are done by hand  and come to life on paper and I prefer to work with coil tattoo machines.
I consider myself very fortuned that I always could count on the support of my wife, family and friends who believed in my talent and inspired me  to take the bumpy road on becoming a tattoo-artist. I only regret that my father didn't live long enough to witness the opening of my tattoo-shop. In his last moments he said to me "if tattooing is your passion, go for it".