By Terence Musto, Creator & CEO, Fabbro Industries, LLC.
Creating a frame with integrated suspension has been my focus for the better part of the last decade. The question I most frequently get is, "what's taking so long?" In 2015 our first utility patent was granted. In 2017 we finished our first fully functional prototype: the Type 57x®. So, what's the deal? Why isn't it ready yet?
To get after this question, I'll give you an honest, no B.S. look at where we've been and where we're going.  We hit our first major success with the frame in 2017 – I was absolutely honored, intimidated, and stoked to have been invited to Michael Lichter's Motorcycles as Art™ exhibit at the Buffalo Chip in Sturgis. The focus of the exhibit was "Old Iron, Young Blood: Motorcycles and the Next Gen," and I knew this was the place to build and show the frame (and bike) that had been in my head for so many years. I set to work: it had to be a 1966 HD flatside shovel, 4 speed trans, and open primary. I set up the frame jig and started bending and coping tube. Three and a half months later the Type 57x prototype was complete, but the work was far from over.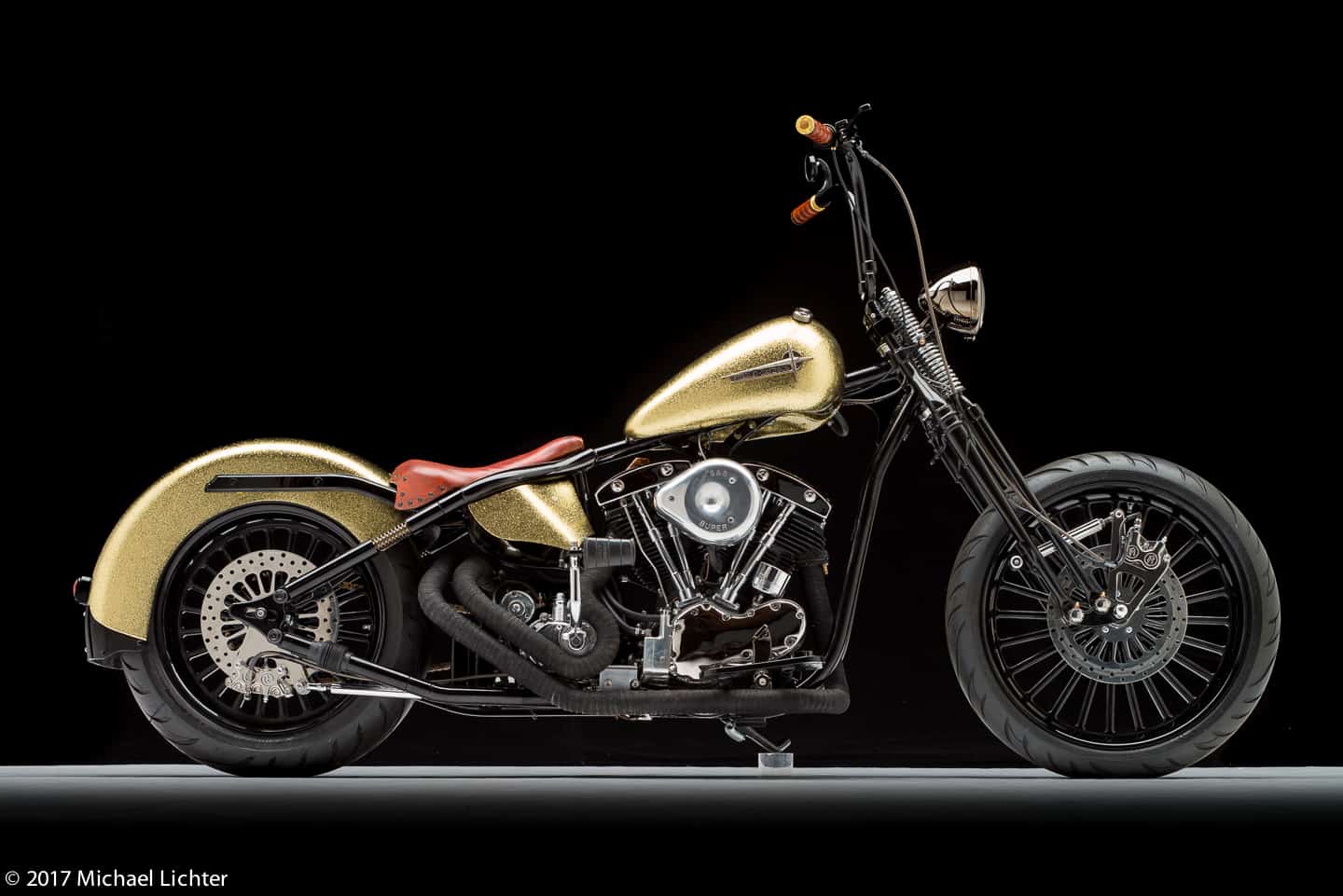 Why integrated suspension?
Rigids look great, but can suck to ride. I know, I know. This is where all the rigid lovers stand up and go "rigids are fine! I put (insert any number) miles on mine!" That's great – your backs must be tougher than others. We get it.  The simple fact is that riding one is more taxing than riding a bike with suspension. Suspension offers numerous advantages besides ride quality. Its main function is to keep the tire in contact with the ground, which means better traction & performance. By controlling the dissipation of energy through suspension, it also reduces fatigue on the components mounted to the frame. With the good, though, comes the bad. Swing arm systems tend to be bulky. The moving components create no-go zones inside the frame where nothing can be mounted; and the one thing that bothers me most of all is fender gap. Swing arm frames need clearance for the rear tire, which typically limits your fender design options. We've all been in a build where we have to make the choice between mounting the fender to the swing arm (leaving a huge gap behind the seat) or mounting it to fender struts and leaving a gap between tire and fender. It's like Sophie's Choice, but you hate both kids.
I kept all of this in mind when designing the Type 57x prototype. It had to have:
The design lines of a rigid
Open space inside the frame, like a rigid (no pivot axle or shock absorbers mounted under the trans)
Shock absorbers that were removeable, serviceable, and tunable
Minimal clearance requirement for tire movement
Our first prototype not only hit all of our design goals outlined above, but it also gave us proof of concept.  Not only does it work, and the kinematics are there, but the entire system was underdamped. While I was most concerned with stiction & binding, the result was actually a suspension system that activated too easily. So we adjusted our goals and moved forward.
There were still a boatload of questions that we had to answer: how does it ride? How does it ride compared not only to a rigid, but also to a swing arm and Softail®? Where is it underperforming? If/when it fails, where did it fail? Considering the fact that this was my only prototype, and I dumped all my money into it, I couldn't afford to trash the bike and then rebuild it. So, we set out on building test equipment to get answers to our questions: a shock dyno (to measure performance of the dampeners that I machined in-house), a spring rate tester, and a road simulator (think of a chassis dyno, but it bounces the rear wheel up and down while it spins to simulate the bike going down the road).
We gathered a bunch of data, found some weak spots, and kept the design/redesign cycle going.
What's next?
Now that we have proof of concept and baseline data, we are turning our attention to tuning the suspension and having our engineering partners perform a complete review of the system for safety & reliability. It's this step of the process that has proven to be the most difficult, time consuming, and expensive. So, we're getting creative.
What has two wheels, a seat, handlebars, needs a rear suspension but is 1/3 of the cost to develop compared to a motorcycle? A bicycle. Ridiculous as it may sound, bicyclists face a similar pain point as motorcyclists: roughly 70% of bicycles have no rear suspension, and the bikes that do have rear suspension are meant for going down a mountainside at high speed. Buying a mountain bike for every day, all-purpose riding is like buying a trophy truck as a grocery getter.
Over the last 6 months, we re-tooled, started gathering data, read more ISO guidelines than I care to discuss, and have successfully prototyped our first integrated suspension bicycle concept. A full suspension bike with 2"-3" of suspension travel and four removable, serviceable, and tunable shock absorbers. The beautiful part is that testing is faster; making design revisions and installing them is easier; and comparing across models is significantly less expensive than with motorcycles.
With our first bicycle prototype on the books, and a pile of release of liability forms, we are beginning to bring riders in and getting feedback on the ride. While there is still a mountain of work to do for us to get this product to market, we are excited by the initial feedback we are receiving. Despite setbacks and shortcomings, I am proud of what our small team has accomplished and am extremely optimistic about the future of our suspension platform.
Find out more at FabbroIndustries
sign up to schedule a test ride and experience the Type 57x for yourself.
stay tuned here at Rubber Culture as we take you with us on this incredible journey!