Story: Mark V & Paul Cox
Images: Mark V & Paul Cox
March 30th, 2018, I remember it like it was yesterday.  At the time it felt like the end of an era. One of the true last mavericks of the New York City bike scene Paul Cox was clearing out the last of his legacy and heading north to Port Jervis, New York to begin another chapter in his life.  Me, I was standing in a shell of a building knowing it would soon be gone and replaced by overpriced living for the instant gratification generation. His last build in Brooklyn stood before me to shoot, I felt very lost. 
It was an interesting day, everyone busy, nervous excitement, me praying the movers wouldn't hit the bike as Paul told me, "Just move it anywhere you want", by the way did I ever tell you I hate moving builder's bikes! It has always been the bikes built by Paul and Keino I end up moving, that has now stopped for my own personal health reasons, stress can kill ya. 
When it was all said and done, we shook hands and went our ways.  I did not know if or when I would see Paul again and knew he needed his space to make this move. We stayed in touch through text and time went by, I would see him at an occasional show, but the maverick was gone.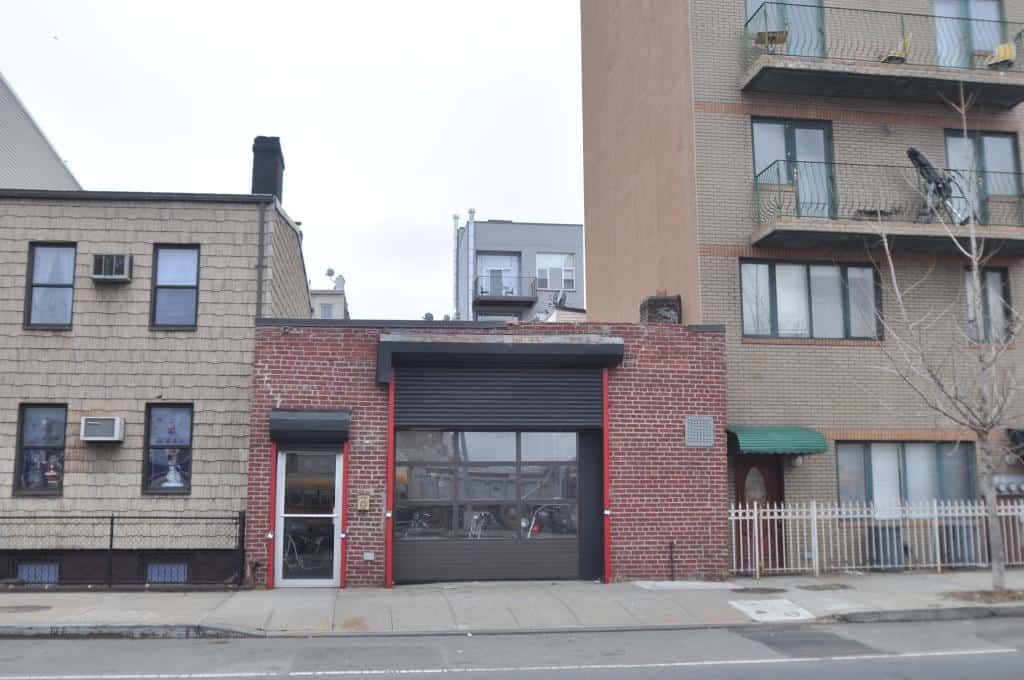 Its 2021 and life couldn't be better for Paul.  I got a chance to finally visit Paul in Port Jervis, New York and to take a peek at the shop, the town, the Indian project, and shoot his latest build that will soon grace the pages of Cycle Source magazine. 
It was way too long since we actually had a chance to just talk.  It was a special day as I got up to date on the next chapter in his life and to really just BS a bit. 
We grabbed some coffee, went back to the shop, and just like always he did his thing, and I did mine.  We did get to dive into our personal lives a bit, but that will stay off set as they say.  The day truly went fast and after shooting the bike and talking about things we shouldn't I went home without an interview for my site launch. 
As the way most things go people get busy on both sides of the fence.  So, what better way to go then with a Q&A to give you boys and girls a quick peek into the world of Paul Cox Industries right from the source and the man himself.  So, pour and cup, sit back and take a listen as I share six questions that give you a peek of life after Brooklyn and the New York minute.
RC: My first question, how did you feel about leaving Brooklyn, miss anything?
PC: Leaving Brooklyn was strange at first, but it ended up being the best decision I've made in along time. I thought it would be a lot more difficult to separate from my history in the city, but it was actually a really smooth transition. I realized that I've gotten so used to being in my shop for years, that it really didn't matter where I worked. I'm comfortable with my style and identity, and I don't miss the daily stimulus I used to crave from Brooklyn. These days, the stimulus and inspiration are more from within, and all I need is a quiet space and I'm all good. The peace and quiet of Port Jervis and the mountains are the perfect backdrop for the work I'm doing right now.
RC: Tell us about life in Port Jervis.
PC: The town sits along the Delaware River, and the shop looks out over the river into Pennsylvania. Port Jervis has been growing the past few years to include a Brewery, galleries and shops that are part of the re-birth of the area. The whole vibe in the area is really creative and the energy and growing. It's been great to work with local suppliers and craftsmen who support each other, and to help support local industry. The town has been incredibly welcoming to us from the beginning.
RC: You have this huge warehouse type building, what are the plans?
PC: The big 4 story building that my shop is in, will primarily be a massive Artists Collective type space here in town, to include artists' studios, galleries, shops and retail. This is my wife, Anne's project, and when she saw this building, she knew it was exactly what she needed to make this happen. The building is one of the earliest in town, from 1853, and it's a really inspiring space for us to work alongside other artists in the future. Anne named the building R. H. Smith Mercantile, honoring her Great-Grandfather and inventor of the Wingnut.
RC:  If you could get on a soapbox and vent about anything in the motorcycle industry or culture what would it be?
PC: Diversity and individuality in design have become too rare in these days of immediate access to imagery and content.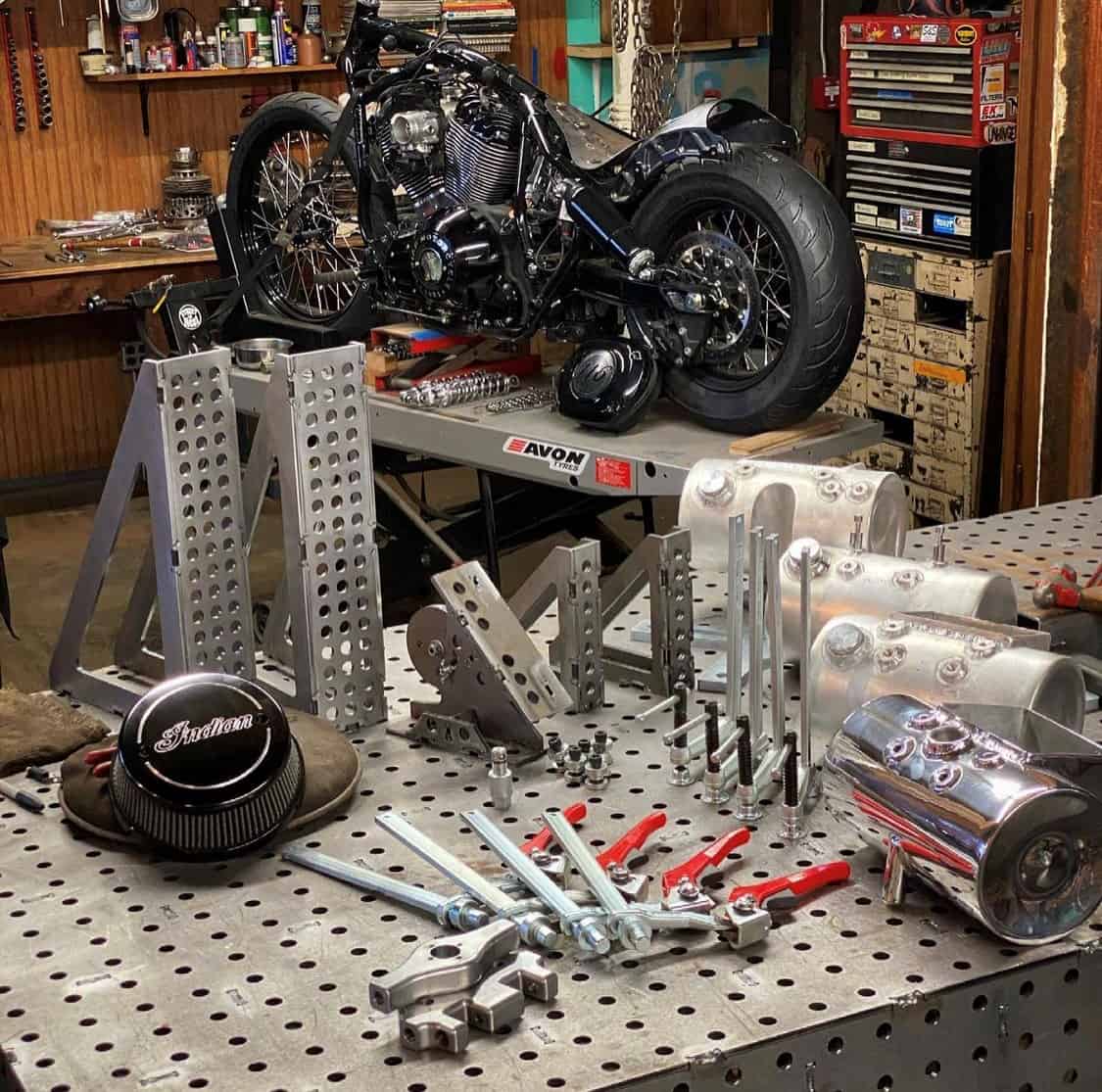 RC: Can you share anything on the Indian project?
PC: Sure. I've been working on it along with my old partner Keino, in our separate shops, and its going really well. I'm finishing the forks now while Keino is working on the tank, and the bike is at my shop for final assembly. I'll be doing the paint job very soon, and we'll be finishing it for mid July.
RC: Given the time, what do you do for fun?
PC: I'm fortunate to say that one of my favorite things to do is building and riding Motorcycles. Besides that, I like shooting on the property, and a lot of the architectural projects we have going on at the house. Anne and I build furniture and other personal items as well. It's great to be able to live with and around the things we create.
It safe to say that Paul continues to set the bar for others to follow. From the days in the East Village at Sixth Street Specials to leaving the big city, it has always been on his terms.  Forever optimistic that the motorcycle culture will remain stronger than ever Paul also extends himself outside the box as well dipping his hands in the world of knives, paint, furniture, guns, architecture, and of course leather. 
Down the road look for more bikes and other creative avenues not yet discovered as Paul continues to redefine himself on a daily basis.  Taking on less client work will allow Paul to make pieces available that he would make for himself. 
Port Jervis seems to the perfect place for all the grand plans yet to be seen by this man.  Being able to work alongside his wife of 33 years Anne the sky seems to be the limit for what they have in store not only for themselves but the town of Port Jervis. Only two hours by train to the city and a station right across the street from the shop, this laid out plan was perfect.  The town is very lucky to have them, and the setting is beyond perfect and offers the perfect balance for work, family, art, and new beginnings. 
I will forever be impressed, but in a strange way never surprised at what comes from the mind and hands of this man.  I myself am lucky to have over the years been able to call him a friend, and just watch him continue to grow from a distance.
In closing, "live in the moment because tomorrow is never guaranteed",  true words of wisdom coming from a craftsman that is dialed into the future while never forgetting the past.  Stay tuned, for the best is always the next best thing coming from the world of Paul Cox Industries and company.
FOR MORE ON PAUL COX BE SURE TO LOCK IN ON ALL HIS SOCIAL PLATFORMS.